Yes the Hi Dollar Token has finally hit USD 1 and beyond. The token has not reached this value since it was officially launched in August of this year. And it looks like it is still rising. At time of writing, it has reached USD 1.23 which is quite impressive. Take a look at the price chart from CoinMarketCap below. It has been rising rapidly since late October. This is extremely good news for Hi Dollar token holders like me. The price of Hi Dollar had been rather lackluster since its launch. Hovering between USD 0.8 – USD 0.6. But usually it will hang around USD 0.7 or so.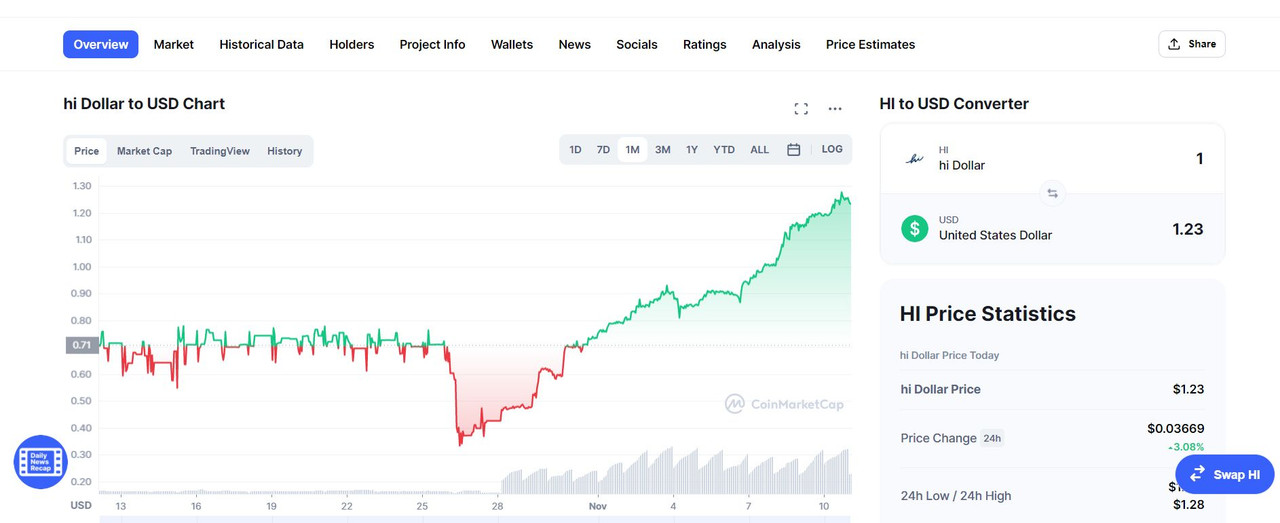 This could simply be the Hi Dollar token being bridged into the Binance Smart Chain (BSC). This helps to improve the liquidity by reducing transaction costs associated when users trade or swap tokens in their favourite DEX. I have done quite a lot of transactions on BSC and they barely cost anything. Of course one cannot compare BSC and MATIC. The price rise starting in late October correspond to the time when they bridge to the Binance Smart Chain. So yes that was a smart move indeed. I mean if they remained in the Ethereum ecosystem and with so many tokens still locked up in their rewards system, this will definitely have some impact on the value. But with the switch to BSC and their LP incentive program, liquidity issues seem to be a thing of the past now.
However with that said I am still not too confident about the Hi Dollar tokenomics. Their massive expected supply is one of the main reasons why. Just by looking at the daily rewards they are giving to their members – you will easily understand why I feel that way. I am talking about like tens of millions of tokens being given to members daily. The daily rewards plus the referral rewards plus the downstream rewards. And we have this LP incentive and other rewards as well. Those will add up and add to the already massive supply of Hi Dollar tokens. With more members joining their network, the supply will only increase in an exponential rate. While I agree that more members means more demand for their Hi Dollar tokens, not all members do add value to their network. The time will also come when the Hi Dollar tokens being locked in their rewards balance are released – what impact will it have on the price of Hi Dollar?
No no, I am not that greedy. I am also not that selfish. Again I can understand why they need to attract more members with good rewards. But I feel that when their rewards program ends, we will be left with such a huge amount of Hi Dollar tokens, the value of the token will simply not be able to maintain. Of course that is just my opinion. The Hi Dollars team seemed to have some good financial backing and the project also seem to be developing very well. However the concern of supply still remains.
I am not a financial advisor. Please do your own research when it comes to investing your hard earned money. You can use my referral code when joining the Hi Dollar network – blong1234. Please take care!