There have been quite a lot of confusion in regards to what is staking and how to do it in Eagle Network. I won't blame the Eagle community as the developers and team seem to be everywhere these days. It has become a incoherent mess as the Eagle Network team tries to get everything sorted out in a very short amount of time. That is why I have been calling for the project to slow down and stop rushing for features to be rolled out. I guess the pressure for the project to be successful is making everything seem so rushed. Anyway I have written a guide on how to "stake" Eagle Tokens and how to withdraw/redeem them to your wallet. Note that their "staking" basically means to hold your tokens and then redeeming them partly out to your wallet. It is like not like the commonly understood idea of staking like in Cardano or Ethereum 2.0. There is no "proof of stake" consensus mechanisms working here. And you don't get any rewards from staking in the mining app. It is meant to be so that users will not be able to dump their tokens during token launch. And we know what will happen to the price of the Eagle Tokens if that comes to pass.
So here goes.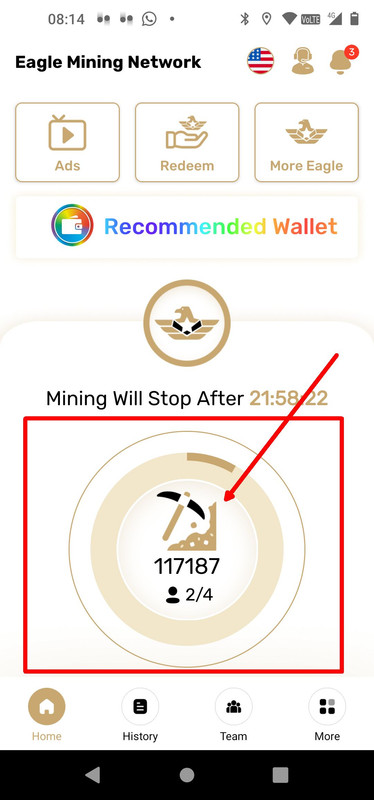 Start your Eagle Network mining app and click on that big red circle showing the number of Eagles and the number of teammates you have.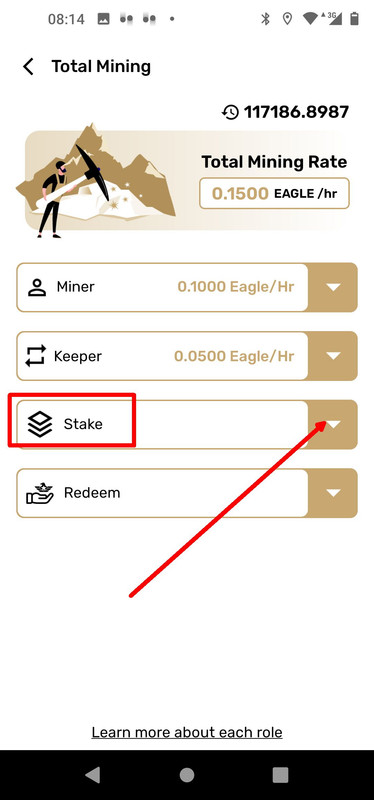 You will see "Stake" option and choose the drop down.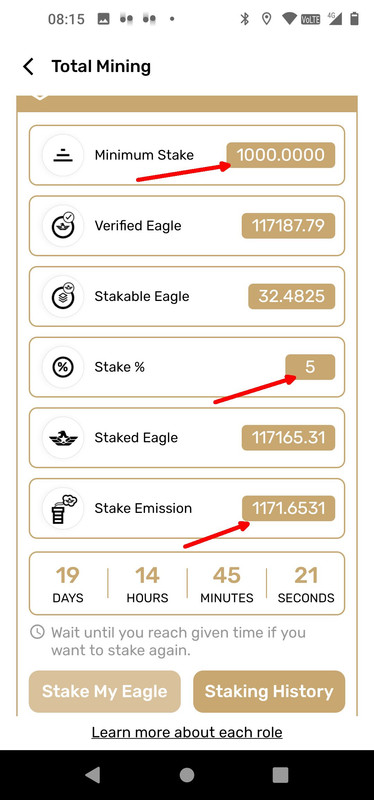 Above you can see that I have already staked my Eagle. However if you have no yet staked your Eagle, you can proceed to Stake them. Note that there is a minimum of 1K Eagles needed. The Stake Emission is to amount you can withdraw. And a reminder that once you have staked, you need to wait for 30 days before you can stake again. At the moment, the allowed amount of Eagle to be withdraw/redeemed is 5%. When I did the staking, it was 1%, so the figures in the screenshot above is wrong. However for the next staking period, the 5% should be reflected correctly for the users (I hope). As for the phrase "Stake Emission", I have absolutely no idea why they called it as "Stake Emission".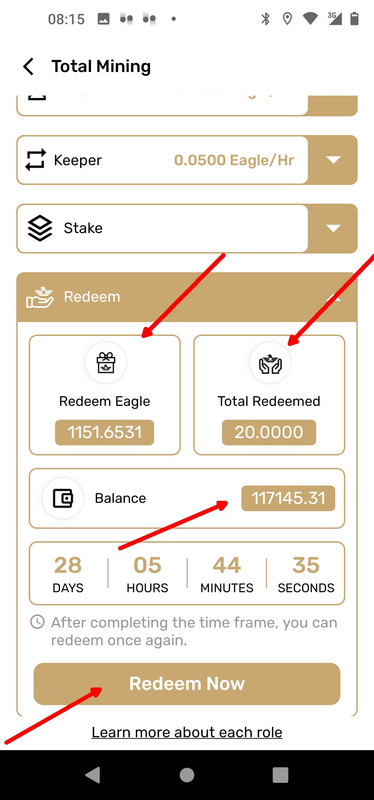 If you want to withdraw, you can go to the redeem option. Here you can see the amount of Eagle you can withdraw and the amount you have already withdrawn. Note that again there is a 30 days wait once you have redeemed. So if you redeem today, you need to wait till 30 days before you can redeem again. Redeem in this case basically means withdrawing to your wallet. At the moment, the supported wallet is CryptoKara. The link is for Google Playstore is here. I am not using Apple, so I cannot confirm whether the Appstore for CryptoKara is ready. Again be very careful on what you are downloading and ensure that the wallet is the genuine thing. If you have any doubts of the authenticity of the application, uninstall it immediately. There are plenty of scammers and scam apps out there trying to steal your cryptos.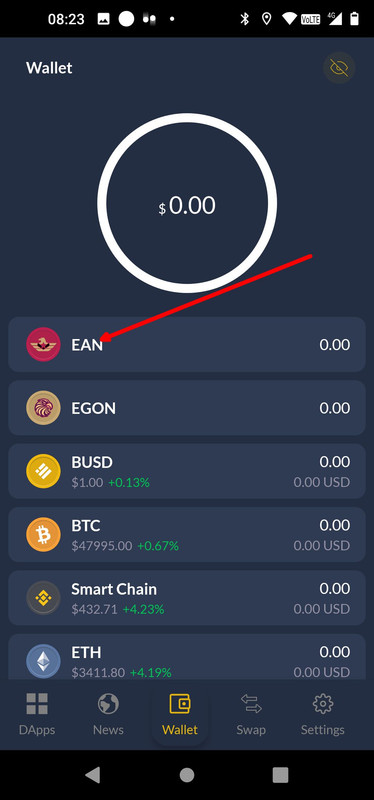 So after you have install CryptoKara and safely store the seed keys (this is very important as well and never share your seed keys with anyone. Losing your seed keys means bye bye to your tokens as well so please be careful), it is now time to get the network address for your own wallet. On the CryptoKara app, choose EAN which is the native Eagle Network Token. EAN is the ticket symbol for Eagle Token. EGON will be the ticket symbol for their own blockchain token. This will be in the "far" future, so don't choose this for the time being.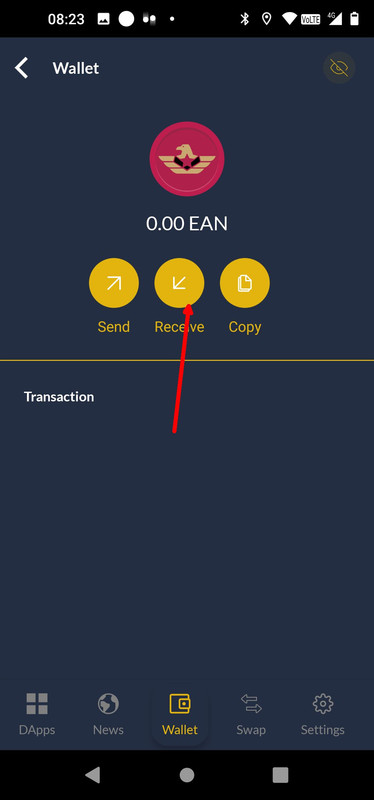 Click on Receive to get the address.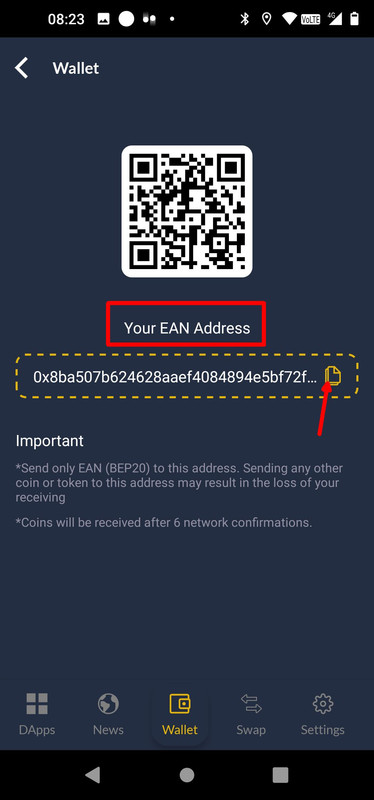 Click on "copy" to copy your address. This part is very important as using the wrong address means your tokens are most likely gone if you use it to transfer. So make sure you copy the address correctly. Again I cannot stress this enough. Make sure it is the correct address for the correct token. There is no turning back if you use the wrong address or use the wrong network! It is most likely gone and you have officially helped the Eagle Network burn tokens.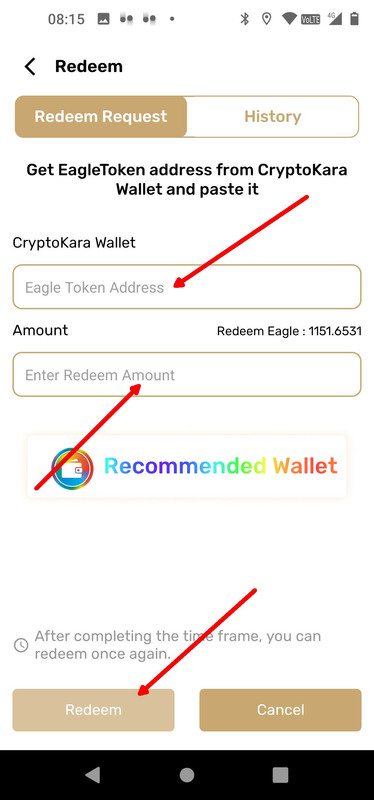 After you have copied the address, copy it onto the CryptoKara Wallet Eagle Token Address as shown above and enter how much you want to redeem/withdraw. Once you have confirmed everything is correct, click on Redeem. Note that it will take some time, especially at this moment where the developers are doing the transfer manually. You can check how the progress is going via the History button.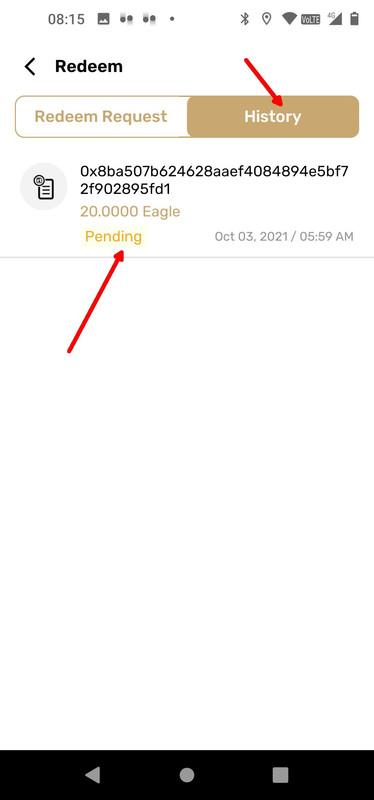 As you can see, it is currently still pending. Please be patient as at the moment, the Eagle team will be transferring manually. If I am not wrong, they will release the tokens on 9th October. In the future, it should be automatic and pretty fast. However I would encourage users to redeem small amounts first as they are currently in the testing phase. Who knows whether the system is robust and stable enough. However with that said, you can later stake EAN and get their Swaptokens. But as to when this feature will be live, I am not sure.
That is basically it. You have redeemed your tokens to the wallet! Take care all!