This is an old school one. I remember when I was young, it used to be my favourite – probably because it was cheap and convenient as a snack. Even our dear Mamee noodles cannot beat it in terms of price. We are pretty poor back and as students, every cent counts right? And in the past they used to see them in small packs where you can bring them along anywhere in your pocket. So yes pretty convenient. When you need something to bite like in the class, just open one up and start snacking. I do not recall having this "spicy chicken" flavour before, so this should be a relatively new flavour option. We only had the original. Back then I didn't even know that they were made from Tapioca and flavoured with some sort of fish sauce.
If you were to buy from the store the original Popo Muruku, it seems that most of the packs are missing some of the ingredients. They do not state the tapoica starch as an ingredient, which I find is pretty strange. How could they have missed out on such an important ingredient and it seems that the tapoica starch ingredient is still missing from lots of packs I have seen.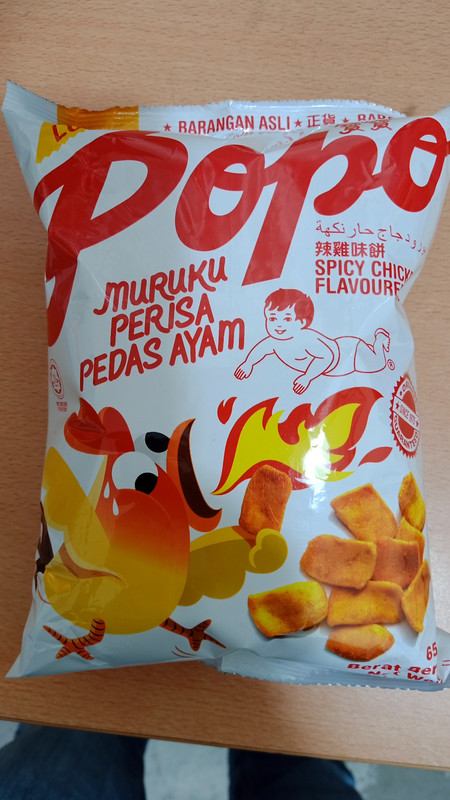 Nice design. That flaming chicken. And of course that crawling baby is just so iconic. Pretty sure most Singaporean or Malaysian would recognize that. This is a big pack . Around 65g of snacks for you to enjoy. And don't worry, it is not spicy at all. I even lick my fingers after consuming them and didn't really feel any burn. Good for anyone who likes a little kick but cannot really handle the heat. Hey, that is me as well.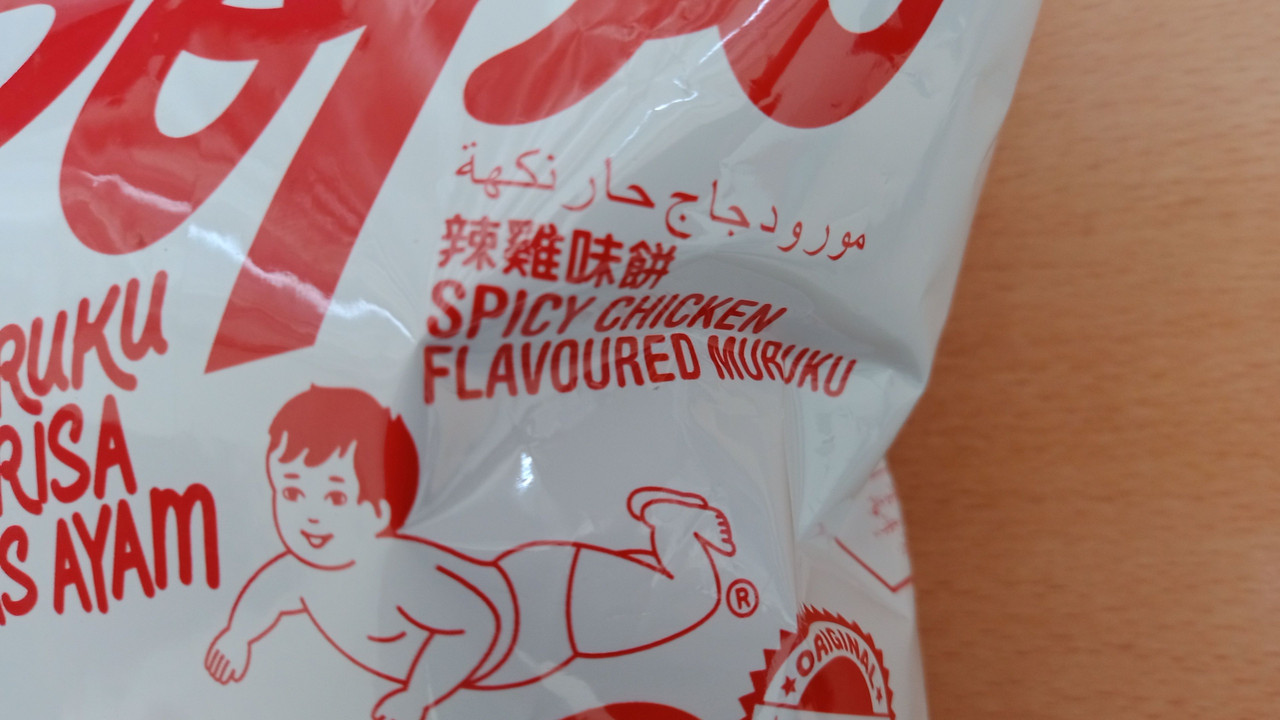 Yes spicy chicken flavoured muruku. If I am not wrong, Muruku are Indian snacks that are slightly crunchier than most other snacks. Quite popular in Singapore. They are usually curled into circles and fried. From what I know, they are usually made from rice flour and sold in those Indian food stores. I have eaten some that were dipped in sugar syrup!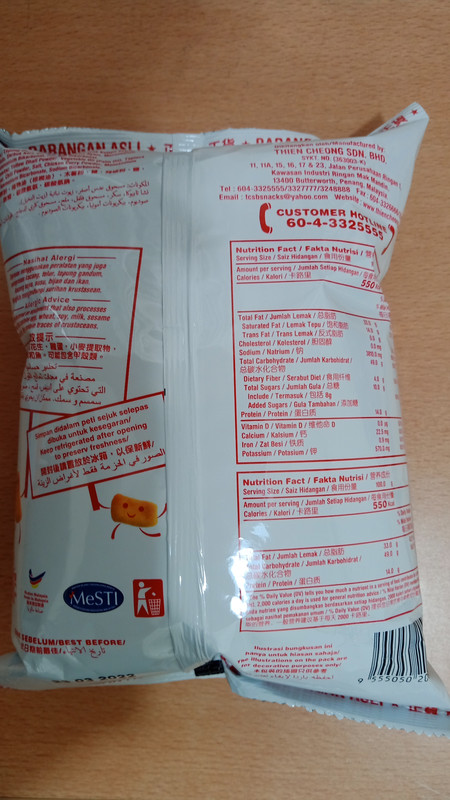 The back of the pack. Tons of information for users to digest.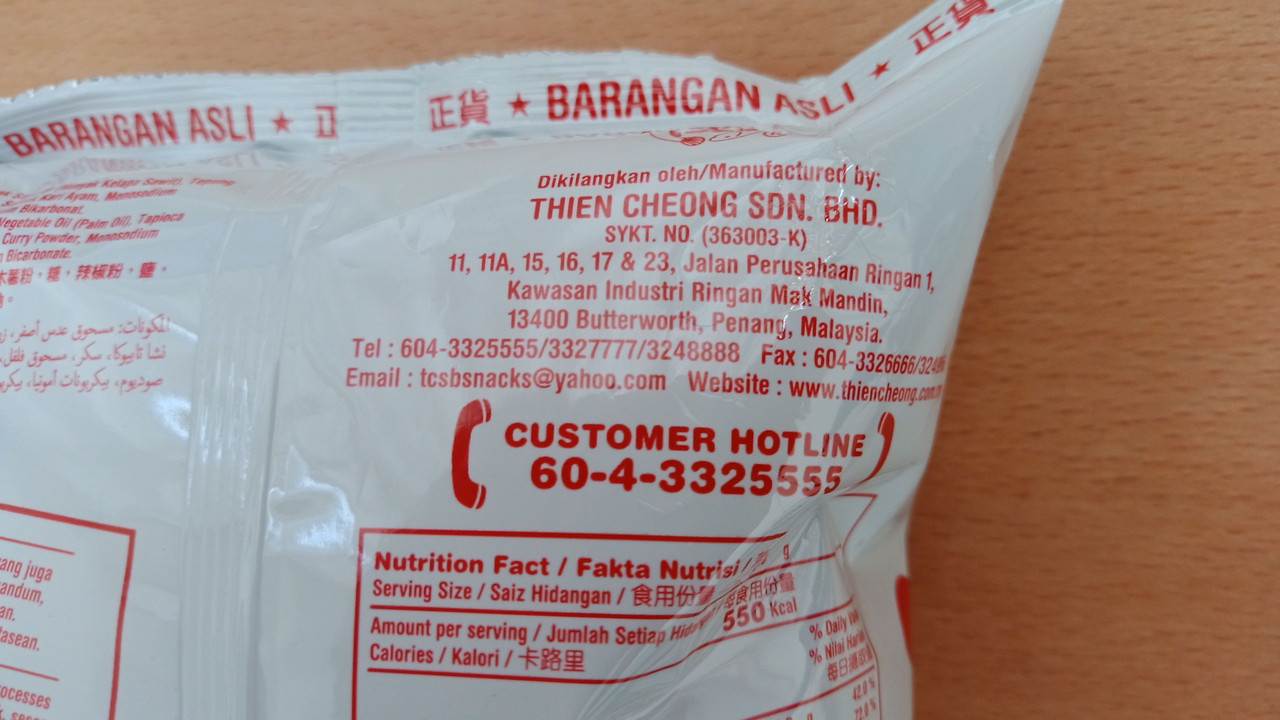 They are made in Malaysia as would most of the local snacks in Singapore. It has been a long time since I travelled to Malaysia – this pandemic is not letting anyone travel. Yes I do miss Malaysia a lot. But I heard from my friends that Johor Bahru has completely changed and lots of businesses have closed down. But here is hoping that Johor Bahru will recover once the pandemic is over.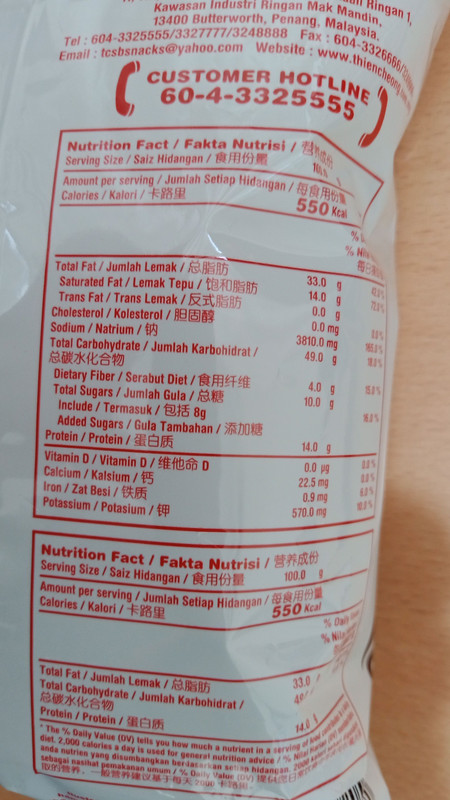 Some nutritional facts. That is quite a lot of fat and sodium though. However I never find it very salty, especially when compared to all those potato chips being sold in our local super markets. So where did all those "sodium" go to?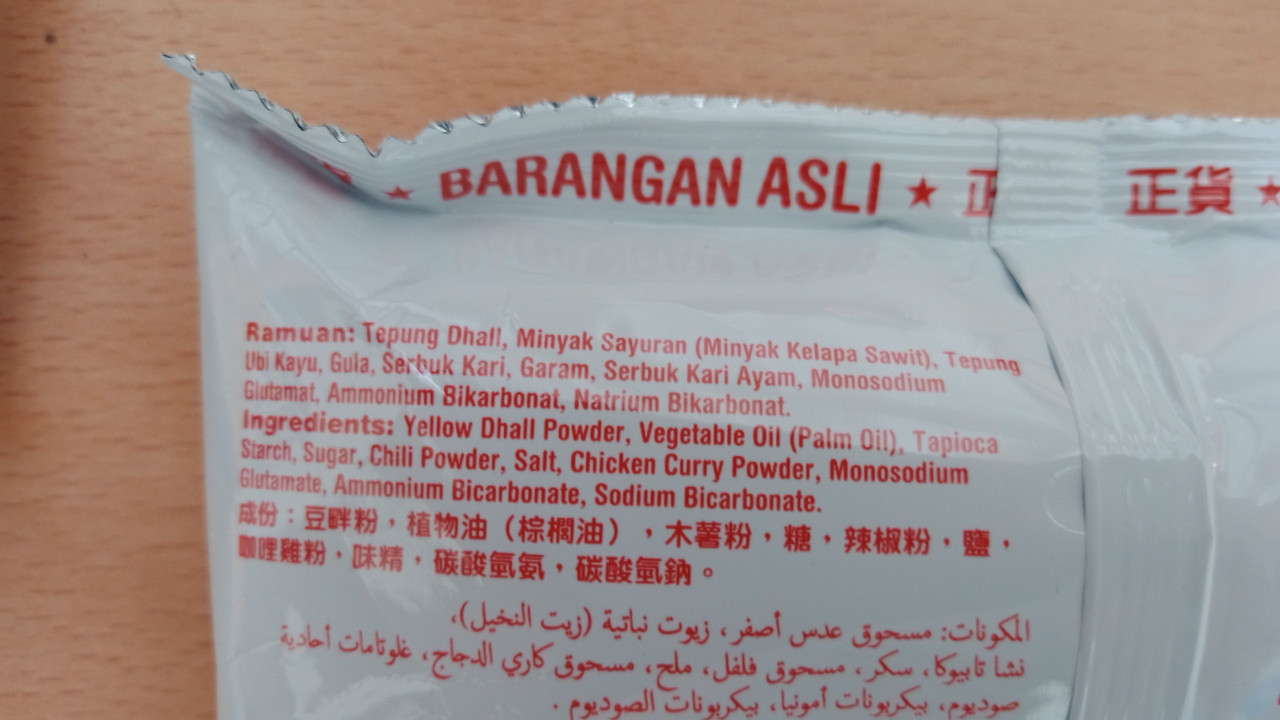 Sorry about the slightly blurred photo. The ingredients are Yellow Dhall Powder, Vegetable Oil, Tapoica Starch, Sugar, Chilli Powder, Salt, Chicken Curry Powder and MSG. That Ammonium Bicarbonate is just there to make it crispy. The texture does feel a bit like eating those fried chickpeas.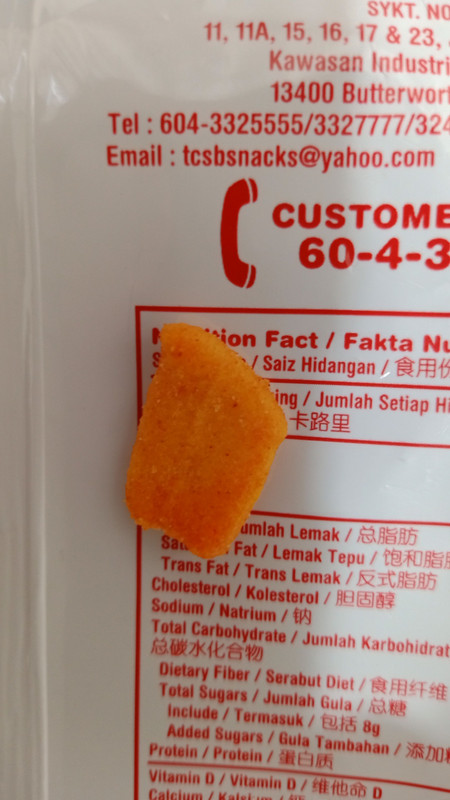 There you have one. It is actually a pretty small piece of snack. Very crispy even if you have left it out in the open for a few hours. Great as a general snack. From the looks of it, I think that this is baked. Maybe "healthier" compared to those that have been fried? As mentioned, the spicy chicken flavour is mild and nothing too special. But then this snack has always been very mild. I have eaten the original for years and never even knew it had fish sauce in it! Checked with a few of my friends and they too were surprised that it had fish sauce in it.
I have done a few other snack reviews you might like to check them out – All Like Banana Chips, Hershey's Dark Chocolate & Natierra Japanese Spice Blend.