And about time I might add. Definitely a very positive move for the Hi Dollar project. It is great to see the project actually moving along. The Hi game that was recently introduced was a bit of a letdown for me – I am not really into mobile games and not something I enjoy at all. And Hi Dollar is a serious project. But from what I can gather from the telegram group, seems like they have been a good number of players enjoying the Hi game. Well good for them. The more users(or members) are engaged, the more they will stick with Hi Dollars. But I digress. We are here to talk about their earnings feature. This is the feature I have been looking for. If I am not wrong, it was supposed to be launched in the beginning of the month. Not sure what happened or why it was delayed.
So if you have purchased some Hi tokens already and they are just sitting idly in the flexible account and you will not be trading them anytime soon, put them in your savings account to earn some interest.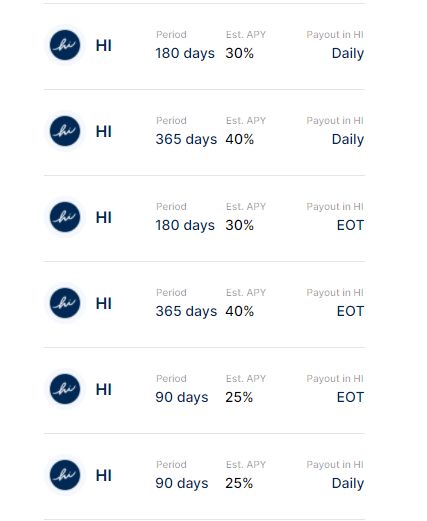 Above are the estimated APY if you put Hi Dollars in the corresponding period. Remember that APY means that the earnings include compound interest. But still the numbers do look pretty good right? Definitely better than what I get from my Nexo interests. And let's not talk about traditional banks and their interest rates. Even the Nexo native token does not have the kind of interest that Hi offers. But then the APY% is jus an estimate and not an guarantee. Note that the APY% will change from time to time. Note that the Payout Daily is locked for that period. This means that there is no way to redeem them early but it is being paid out daily. For the Payout to be End of Term (EOT), you can "redeem" early however you can only accrue interest to that point.
Other than savings in Hi, they do support other cryptocurrencies as well. At the time of writing, they have support for BTC, ETH, USDT, USDC, BUSD, DOGE (yucks!), LTC, BNB, TUSD and DAI. However none of the other cryptocurrencies (and stablecoin) yield is that good either. And you get paid in Hi token in all their products which I think not many investors would want that. Most people will prefer getting back the same type of crytocurrency they put it. However if you prefer keeping everything in one basket, you will need to transfer your cryptocurrencies to their wallet to start earning. There are other lending platforms that give you better returns.
For me, I will usually go for the higher yield product but for the time being, I will stick with the one with the shortest period. Note that you can only use your flexible account for the savings plan. So for those are did not invest any money into the Hi Dollar project and depending on the Hi Dollar daily rewards, you will have to wait till the the lockup period is over before you can start investing. Furthermore it seems that if you are living in the US, you are out of luck. The SEC threatened Coinbase with a lawsuit if they went ahead with their own high yield product and I think the Hi Team do not want the extra headache. Sorry my readers from the US, you are not allowed in for their earning plan. I will definitely keep you guys updated.
[update: 02-Oct-2021]Below is a screenshot of my earnings return. It is indicated as Yield Payout. The problem is that I purchased Hi Dollars via the 4 year daily release plan, so I only have a little to add to my earnings.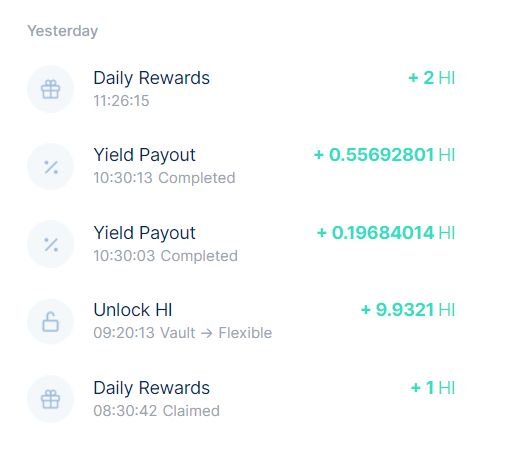 [Update: 17-Sept-2021]It looks like Hi is also going offer its members "Hi Benefits" very soon. From what little information that was provided, it seems one of the benefits is to give its members access to "Masterclass". Mostly online classes taught by those experts. If you have been on Youtube for some time, you should have seen some of the advertisements for Masterclass. Not too shabby to learn stuff from some of the biggest names (aka celebrities) out there. Of course there is a minimum requirement to be able to reap this benefit – it should be around 1k Hi Dollars in the vault and earnings account.