I always love Hershey's Chocolate bars. If I get a craving or even just for a quick snack, grabbing a pack of Hershey's Chocolate bar has been the easiest and most tasty solution. It is easily available at most stores in Singapore. But I think it might be a good idea to get them from like 7-eleven or places with air conditioning as chocolate usually don't do well in weather like in Singapore. I usually get from from the nearby supermarkets. It is interesting that some of my friends would place chocolate in their fridge. I usually don't as I will finish them very quickly after purchase. And I don't like how chocolate gets "hard" when it has been refrigerated. Like biting onto a piece of glass.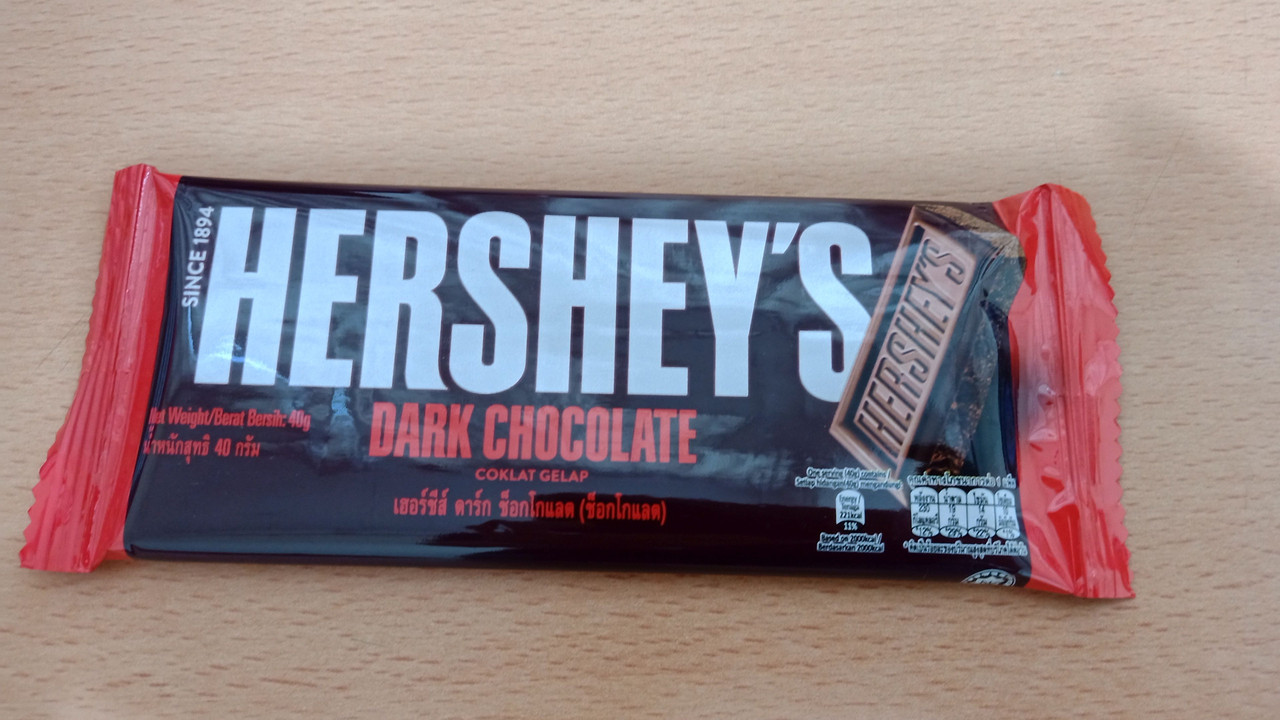 This time I am doing a review on Hershey's Dark Chocolate Bar. Yes I love their milk chocolate but it does lack the slight bitterness I enjoy in chocolates. So if you are like me, try the Dark Chocolate ones. Both the Hershey's Milk Chocolate and the Dark Chocolate costs the same anyway. However I think the Dark Chocolate loses the silkiness that you will usually find in milk chocolate. And Hershey's seem to have perfected that super smooth silkiness and don't think you can find another brand at the same price point. The texture isn't exactly the best I have tasted but come on, this is meant for mass consumption.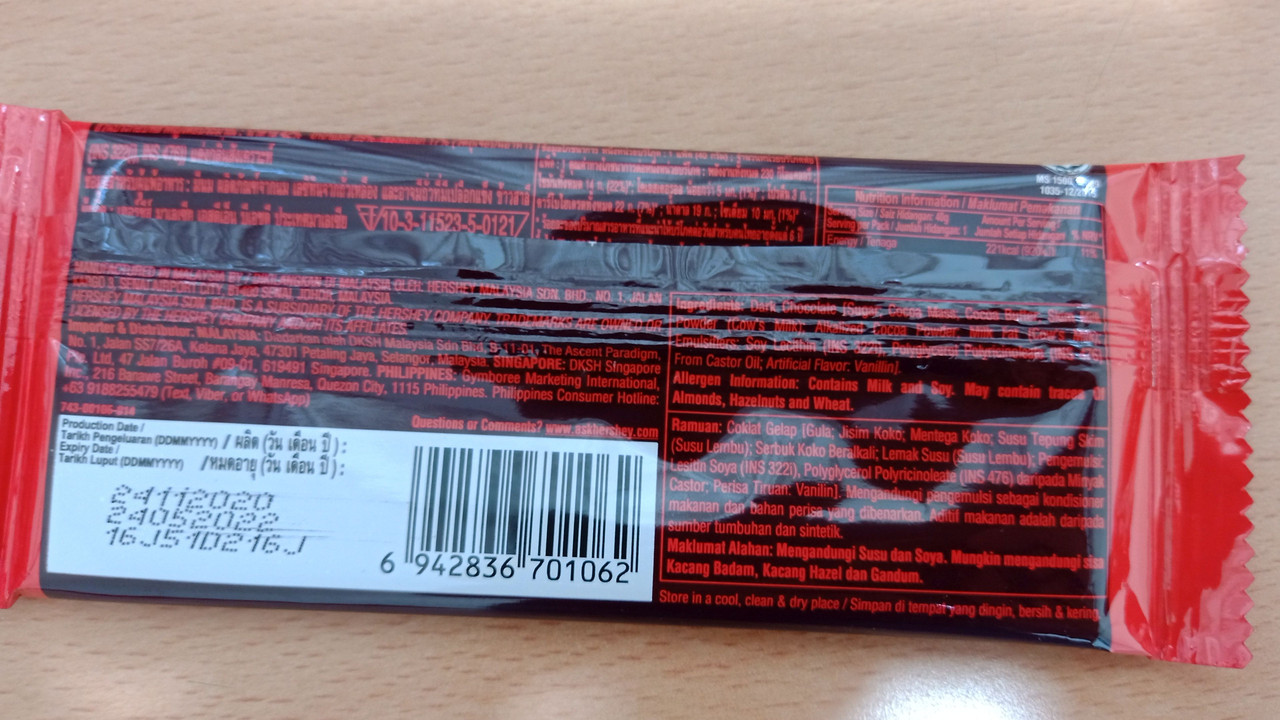 This bar is made in Malaysia – just across the causeway!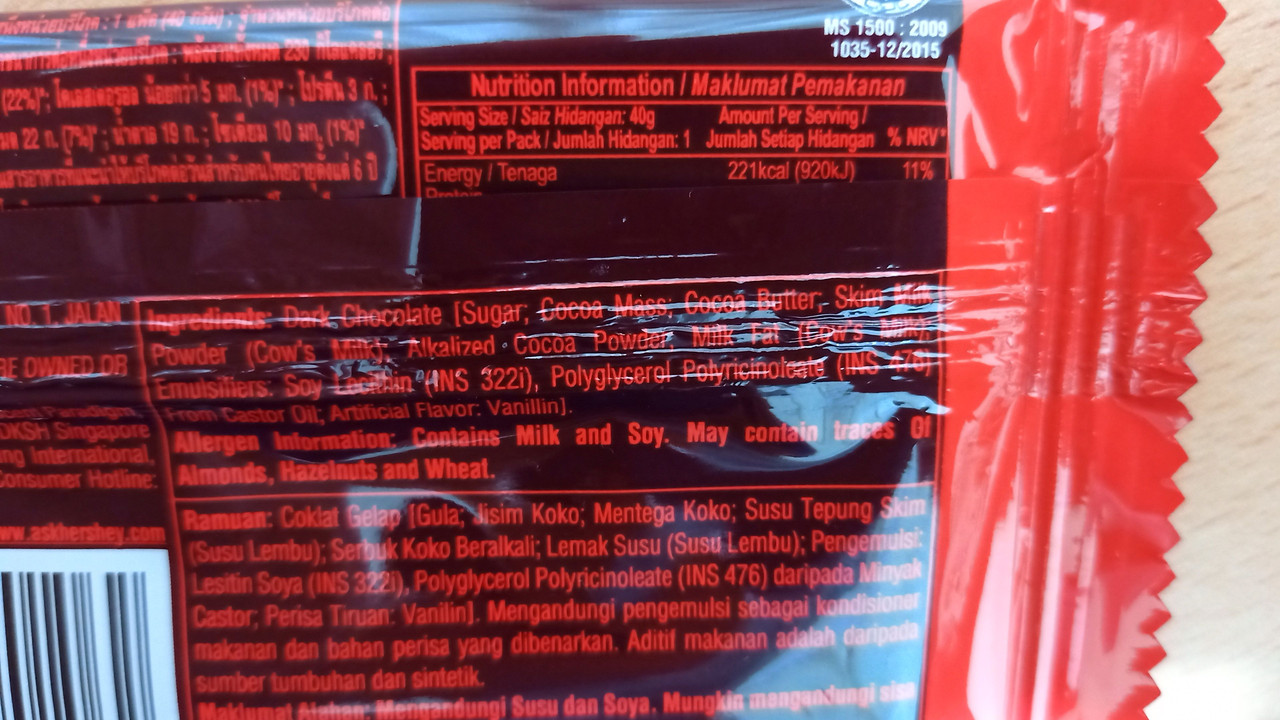 The ingredients are Dark Chocolate (Sugar, Cocoa Mass, Cocoa Butter, Skim milk power), Alkalized Cocoa Powder, Milk Fat, Polyglycerol, Polyricinoleate from Castor Oil with Artificial Flavour Vanillin. No idea what some of the ingredient does. I had always thought that Dark Chocolate is basically Chocolate with less or no milk? One thing I like about Hershey's is that it isn't that sweet. I am getting old and I can't stomach stuff that are too sweet anyway. Though I have heard complains that Hershey's brand of chocolate are always on the sweeter side. And as I have mention, I love the silkiness of Hershey's. Of course we cannot compare it to the milk chocolate version but it is still there. And as long is it not white chocolate (yucks!), I am fine with it. For those who don't know what is white chocolate, it is basically cocoa butter and alone, that stuff tastes like flavourless butter. Not to my palate.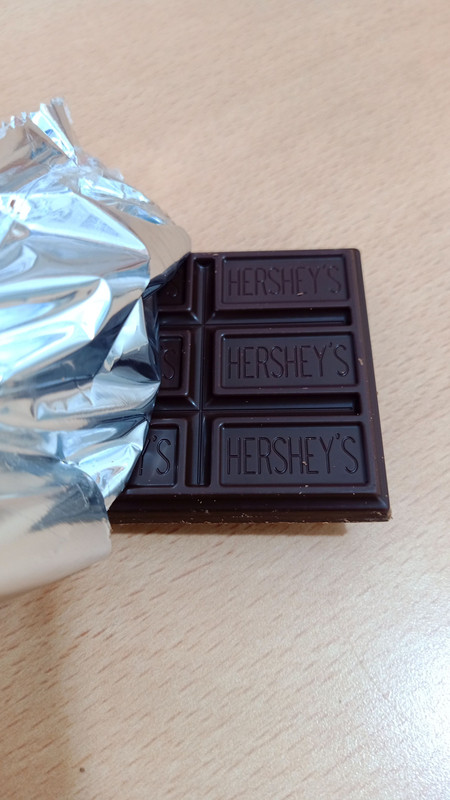 Another plus is that the Dark Chocolate does not melt as easily as milk chocolate, especially in Singapore's weather. As you can see, the Dark chocolate bar stayed perfect even after half an hour walking about. And I cannot just eat one piece….very irresistible. I heard that they have a "Special Dark" bar but I am not able to find them in my nearby supermarket. However if I find one, I will be sure to do a review on it.
Take care all. And stay safe.