I am not sure whether to start a new blog about food I find interesting or to add to this blog but I guess it is best to start somewhere. I heard that it will affect Search Engine results if the topics don't really gel together. Anyway this is just my personal blog, so not really a biggie if my SEO get wrecked. This will be my first blog post about food!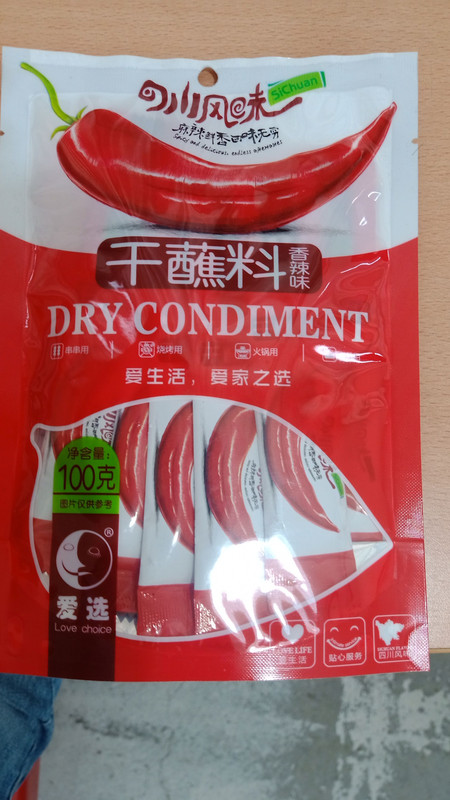 Found this at my nearby i-Tech Supermarket so I thought I get one pack for review. i-Tech Supermarket is kind of a smallish supermarket that carries a good number of items but they are general in every sense of the word. But they do carry a lot of stuff, mostly groceries and household items. If I am not wrong, most of them are open 24hrs. And sometimes you do find very interesting stuff there as well. Like this "Dry Condiment". It is something like those Japanese Spice Mix or Shichimi Togarashi. They usually contains chilli and some other spice blend. You might have seen them in Japanese restaurants and apparently they are very popular. This "Love Choice" brand comes in convenient packs of 10, each around 10g of spice blend.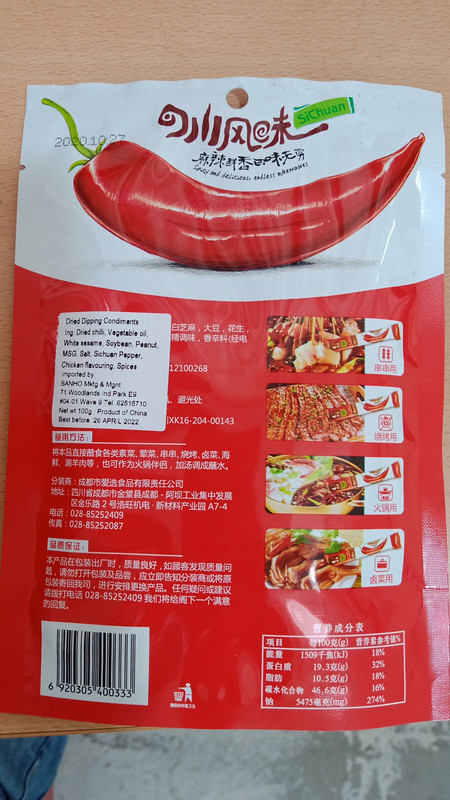 It is somehow called "Dried Dipping Condiments". The ingredients are Dried Chilli, Vegetable Oil, White Sesame, Soybean, Peanut, MSG, Salt, Sichuan Pepper, Chicken Flavouring and Spices. Of course as a condiment, it can be used on various dishes to spice things up. If you ask me, it is especially great with rice or meats. But note that the Sichuan pepper is rather overwhelming here, so you should add in moderation if you do not want it to overwhelm your dishes. And the spice level is high though. That is why although it is very delicious, you might want to avoid adding to some delicate foods.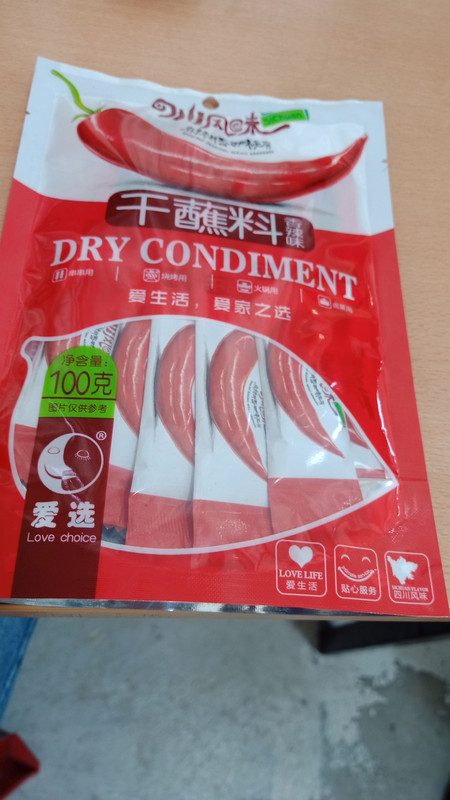 I think it might be a better idea to have a bottle rather than small packages. As the flavour can be quite intense, you would probably not want to use the entire 10g package. If it comes in a bottle, you can use as much as you want instead. Pretty sure such dry stuff will keep very well in a bottle container.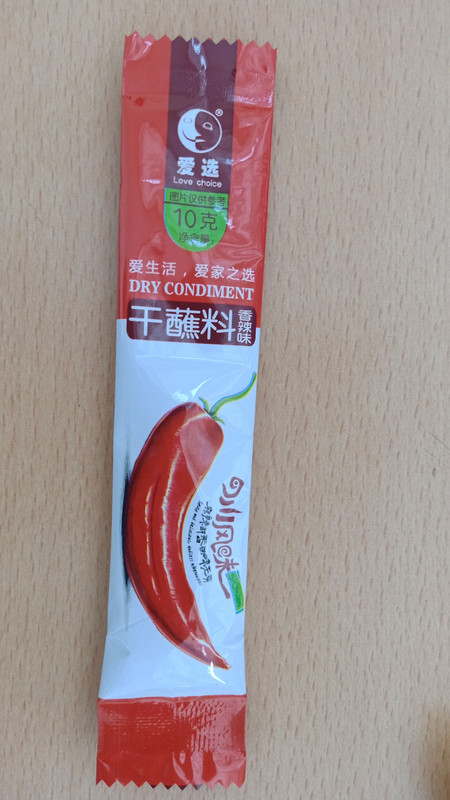 10g is actually more than enough for 3-4 dishes. As it is a condiment, you usually won't need that much. If you need to add tons of condiments, then there is something very wrong with the food itself.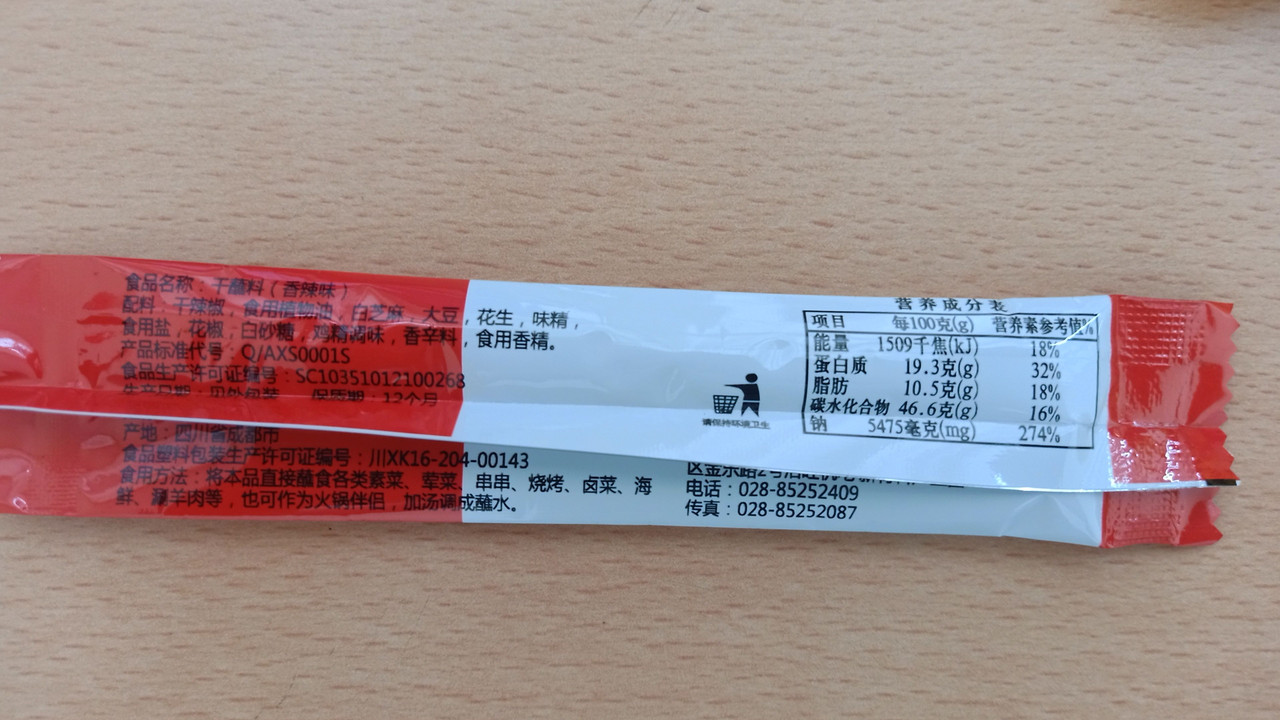 Some nutritional information. The good thing with such packaging is that you can easily bring them out with you. Like going for a picnic or lunch at the foodcourt. Just slip into pocket or something. But I still think I prefer it to be in a bottle.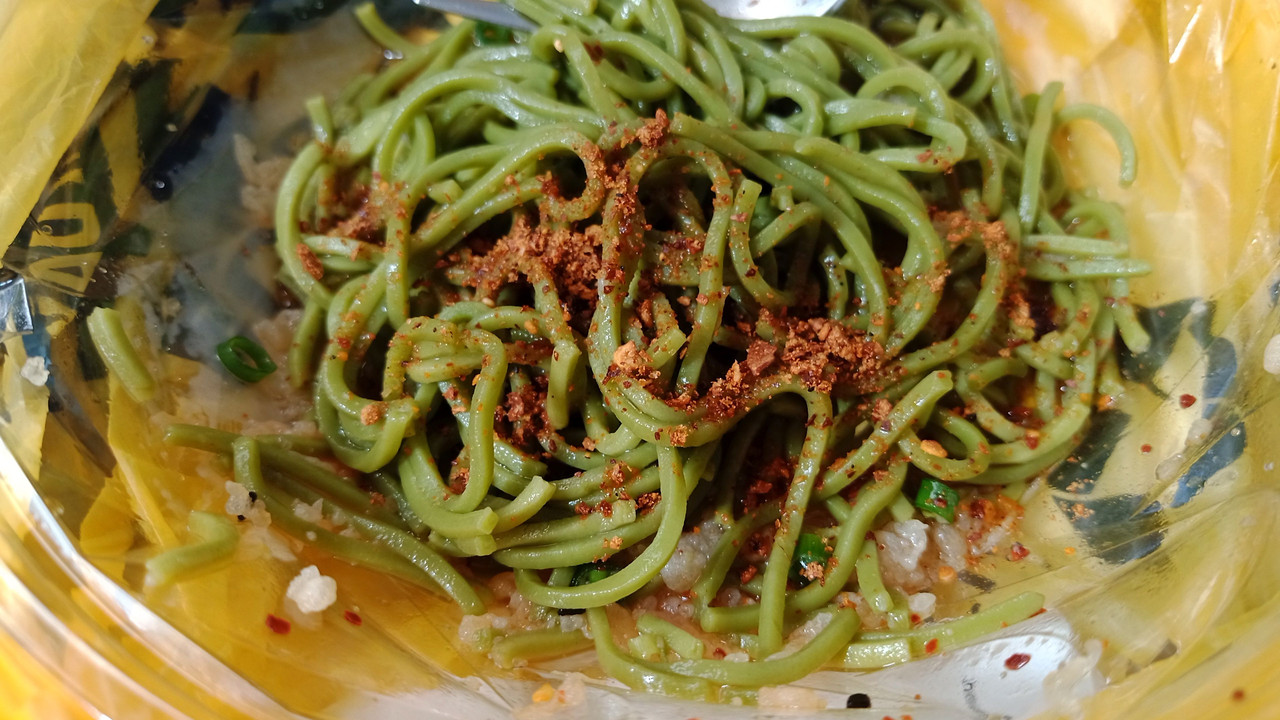 Here I am adding it to some noodles. Again the Sichuan Pepper is very strong and it can overwhelm the food, so use in moderation. I think it goes very well with bland foods. When you open the package, you will be immediately greeted by the Sichuan Pepper smell though. Of course if you love the smell…and a caution – this can be quite salty.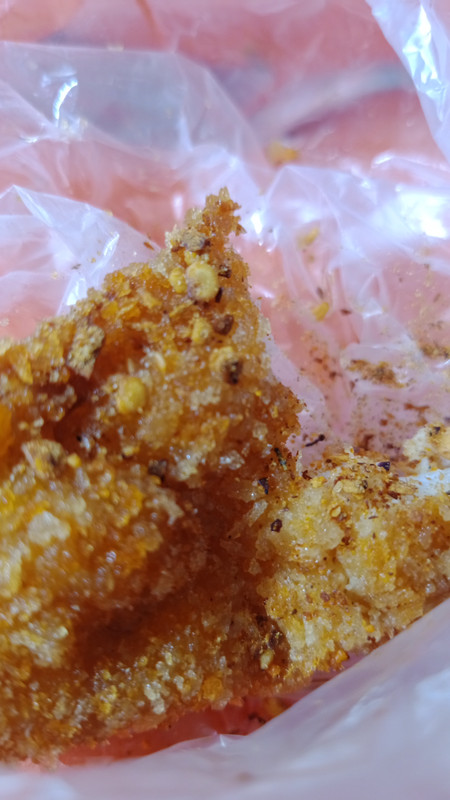 Not too bad with fried fish. It will surely go well with meats and fish. Too bad I didn't have any other meat when I was taking photos. Overall a good mix of spices – the Sichuan Pepper and chilli are still the dominant flavour in the spice mix – the "mala" sensation on your tongue is always there but you know what, I can still taste the other spices.
I bought the 100g pack for about S$3. Price is quite decent. The Shichimi I bought from the local supermarket is around half the amount and cost like S$3.50 already. So if you like strong flavours, this condiment should be right up your alley. And yes, it can be used for dipping as well.