You guys know that I am a Nexo [referral link] fan. Sure they don't have any referral codes or links which I can use but their interest rates are good and their interface easy to navigate. And no confusing financial jargon in their fine print as well.
In this article, I will be telling you how to maximize your interest rates from putting your cryptocurrencies into their platform. Note that Nexo is a lending platform. So what that means is that they are something like a bank where customers deposit money and the bank lends it out. However they are not just like any other traditional bank, their rates are much better and they are pretty transparent (at least more transparent than most traditional banks I know of).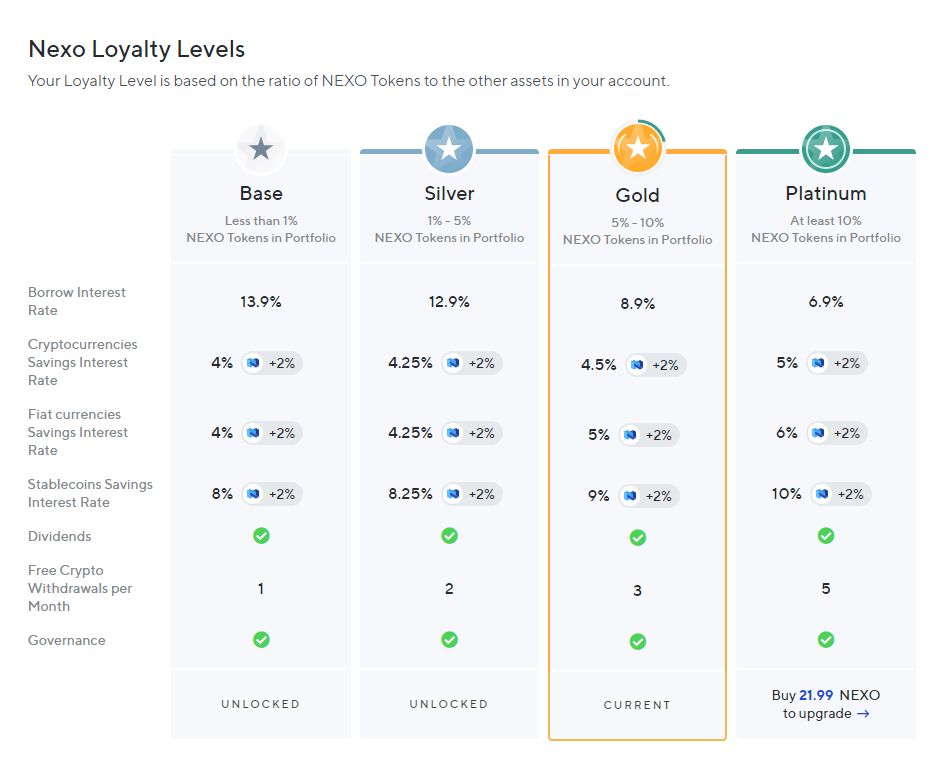 "Loyalty levels" is basically a way for Nexo to incentivize their customers to hold Nexo tokens. Nexo tokens are the native tokens for Nexo. The more Nexo tokens you are holding in Nexo wallet, the higher your loyalty level is and the more benefits you get. You can take a look at the interest rates they are offering above. And for those who are planning to borrow cryptos from the platform, you should really look into holding at least some Nexo tokens. The reduction in the borrow interest rate is quite significant. You can check out how much Nexo token is need to get those loyalty levels in your profile page. However direct purchase of Nexo token might not be available in certain countries. Probably due to certain laws in these countries.
One thing I don't understand is why Nexo is "punishing" bigger players as they have to get more Nexo tokens to keep up with the loyalty levels. As you can see, the loyalty level is determined by the percentage of Nexo token in relation to the other cryptos held by the investor. I am guessing that would force the investor to get his or her interest payout in Nexo tokens then. But still feels to me that it is a rather round about way to increase the demand for Nexo tokens.
Other than the difference in interest rates, you can have up to 5 free withdrawals from Nexo as well. This simply means that you can withdraw your cryptos without any fees for up to 5 times per month. However there will most likely be network transaction fees. These fees are something Nexo do not have control over. Just imagine you are transaction via the Ethereum blockchain! The gas fees might even be more costly than the interests you accrue! So make sure you know these "hidden" costs when doing transfers. Isn't it ironically that cryptocurrencies were meant to cut away costly middlemen, but only to have actual transaction fees being the biggest killer? Thank god for Polygon/Matic eh?
Advanced Verification – you can earn dividends from your Nexo tokens! Complete their KYC to achieve advanced verification status and you will earn some dividends on the Nexo tokens you hold. Note that Nexo will keep 70% of the profits while the rest (30%) will be issued out as dividends for the Nexo token holders. [8th June 2021 Update]Note that as of 8th June 2021, Nexo token will now be changed to give interest rates of up to 12% just like stablecoins. This was just changed via their voting system.[/Update]Of course those Nexo tokens must be held in your Nexo wallet and not used as collateral in any credit line. However all these information might change in the future so it is a good idea to check out their blog regularly. And Nexo is looking to improve the advantages of holding its token in their 2.0 version. Watch out for their news. Yes I do admit that currently there isn't any real use for its token as of yet. At least to me, it is not that attractive at the moment.

Another way you can maximize your returns is just to have your interest payout in Nexo tokens instead. This might not always be attractive to most users as we usually want the payout to be in the same crypto which we have put in. But if you want the extra 2%, why not. Can always swap back to the original cryptocurrency whenever you want. Of course you might lose a little on the swap/exchange and hoping that the value of Nexo tokens rises but overall I think the 2% is still quite significant over time. And if you are putting your cryptos into Nexo, surely you are planning to hold onto your cryptos for some time right? Note that you will need to complete KYC before you can apply for the interest payout to be paid in Nexo tokens.
Note that all the percentages in Nexo are in Annual Percentage Yield or APY. So that includes the compounding interest as well. If you would like to know more about difference between APY and Annual Percentage Rate or APR, please read this.
Oh I need to mention again that I am no financial advisor. Please do your own research first before doing any investing. And if you are thinking of putting your funds into Nexo, you might be interested in my step by step guide for your first deposit into Nexo. Please take a look. Hope that it will be useful.